Day # 1 of The Ultimate Blog Challenge
:)
Yay!! it is the 1st of July, beginning of a new month!! Yes I am usually this excited about every month :). My excitement about July, besides the fact that it is named after Julius Caesar, is also because my parent's wedding anniversary is this month ♥ and also few special friends celebrate their birthdays this month ♥. But this year July is also special because my blog 'SuKupedia' will complete 3 years of it's existence on July 25th ♥ . So this month I really wanted to something special. Just as I was thinking I came across the
'Ultimate Blog Challenge'
, well what was I waiting for, this could be my 'Something Special' for my blog this year ♥. Today is the first day of the challenge, and what better topic I thought than to write on 'Challenge' itself ♥
When you hear the word 'challenge' a picture of something huge and impossible starts lingering in front of your eyes. And it is true, a layman's definition of challenge is doing something which he or someone around him thinks will be impossible for him to do. While plotting this post I was thinking about the first time I ever took up any challenge. My memory as further as it could go searching for this, stopped at when I was about 10.
Growing up me and my brother had our own fortes. He was good at athletics, singing and of course other non-mentionable activities. I on the other hand was the bookworm; loved to read, write and study. Our school had it's annual sports day coming soon. As usual my brother was taking part in it. This participation was being discussed at the dining table, one evening. My parents were all motivating him. I couldn't stand that he was getting so much unnecessary attention. I mean come on how difficult is it to run on the ground, anyone could do it right? but scoring marks in class academics is something not everyone can do. In an attempt to lift my ego I patted myself.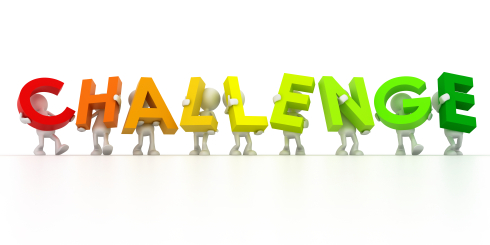 Image Courtesy: Google Search
During the discussion I let my big mouth open up to talk. As the discussion progressed, end of the dinner it turned out that I had accepted a 'challenge' from my brother to take part in a sport event at the annual sports day! Yes it only hit me hard when I woke up the next day to go to school. So after reaching school, I went to my sports teacher and asked her to enrol my name for a running competition. My teacher was a little reluctant because she had never seen me before. I had to convince her hard that though she had not seen me I was actually a student of that school and that my absenteeism from sports lessons is not because of my lack of interest but just that I had other 'important' things to do. Finally she took down my name.
I did a regular practice. Went for runs with my brother in the morning although it was never fight free and most of the times he just left me half way and took off, I was determined not to give up. Our school sports event happen at a huge stadium. On the sports day the stadium really looked all colorful. Parents all excited about their children, and students all in a really competitive mood. From the grounds, I could see my parents sitting and waving fervently as my name was announced for participating in a 200m running race.
All seven of the participants lined up and stretched on their marks. The whistle was about to blow. I looked up at the crowd and suddenly felt an unexplainable pinch in my stomach. It was as though I wanted to throw up. Though my brother was all acting funny in the beginning, but when I was on the line, I saw him raising his thumb towards me and yelling my name. I saw the long stretch ahead of me and suddenly the entire stadium felt like it was going in rounds. The sports master whistled and then shouted..... "READY" ....... "ON YOUR MARKS" ..... "GO" and as he shouted 'GO' he fired his gun up in the air and all the 'Six' girls started running.
There were only six girls because the 'seventh one' that is yours truly, SuKu had fainted by the time the gun went off and she now resembled an upside down turned frog on that huge ground!!!
Image courtesy: Google Search
You see when you practice running, there is no huge crowd and there is no gun and there is no competition...how on earth was I supposed to know that it would be this scary!! So ya that was the first and last time I ever attempted anything with running. I really hope some day I can train myself well and take part in a marathon or something....but till then here's a toast to that brat of my brother who would roll on the floor each time he told this story to someone who would talk good about me!!



Image Courtesy: Clipartof.com
I don't mind being stalked

if you like what I write here please click the '
Contact
' page and follow me to read more of my work

http://about.me/sukusapru